Have you heard of a place called Ivan Dolac?
A perfect oasis of peace and tranquility
Intact nature

This place is surrounded by intact nature, pine forests, meadows, and beautiful vineyards
An ideal place to share memorable moments with your family, friends or people you love
A little heaven on earth
Ivan Dolac is situated on the island's southern side, by the crystal clear sea shore, and surrounded by the divine intact nature, green meadows, and vineyards. The magical atmosphere of this small island town, merging with nature, and enjoying the silence and sounds of waves crashing on rocks, is something you will remember for a lifetime.
Words can hardly describe the beauty of Ivan Dolac's crystal clear sea kissing the beautiful beaches, and the scent of the sea and pines that a light breeze is having during unforgettable sunsets.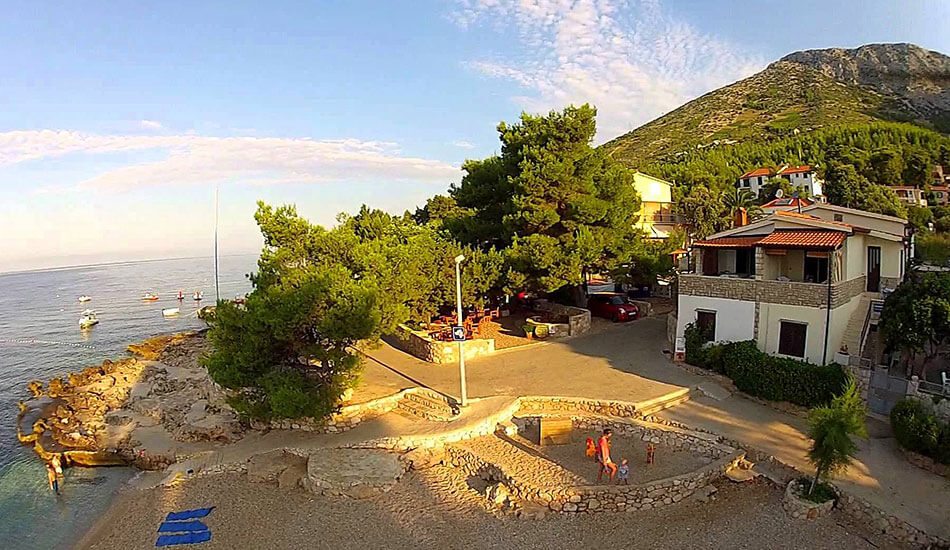 Tourist center location
It has six pebbly beaches where everyone can find their own place, and if someone wants a bit more privacy and tranquility, there are rocks between the beaches which are suitable for swimmers. If searching for refreshment from the heat, you can find it in one of the cafes or restaurants nearby. In the restaurant, you can also try the local Mediterranean cuisine. Calm and warm evenings spent on your apartment's terrace will be enriched by excellent Hvar's wine you can choose from a wide selection.
How to find this place?
Getting to the most beautiful places is worth going even on a longer journey. Once you get to the island of Hvar by ferry, either to Sućuraj or the Old Town, you have to go to Jelsa. After passing Jelsa, you will pass through Pitve and come to the attractive tunnel which will take you to the island's southern side. After the tunnel, there are serpentines leading to the crossroads to the Zavala, where you continue to the Ivan Dolac. With endless views of the sea and marks on the road, you will get to us easy and quickly.
Apartments
Modern apartments near the coast, with kitchen, bathroom, toilet, and terrace.
FIND MORE
The island of Hvar
The island of sun, wine, olives, and lavender with pleasant climate and positive sea impact.
FIND MORE
Reservations
Find and book your accommodation on the island perfect for a summer vacation.
CONTACT US
We are here to answer all your questions. Our always available staff will make sure your vacation on the island of Hvar is as pleasant and carefree.